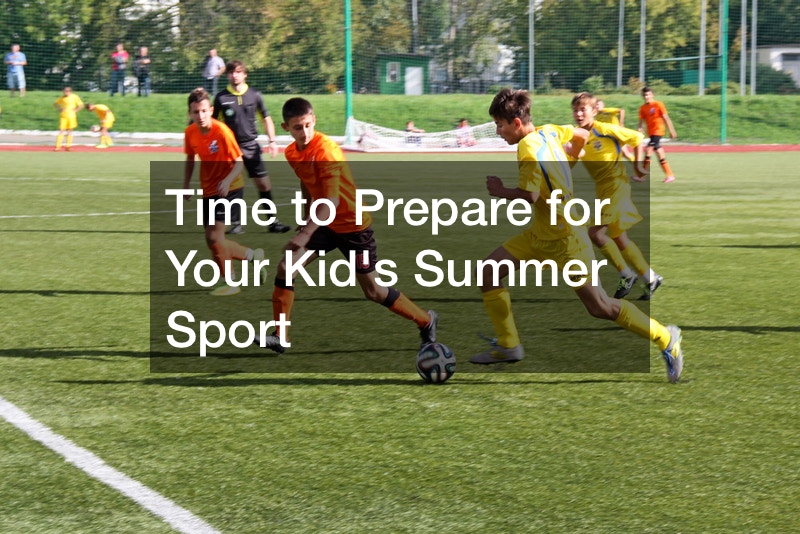 As summer gets closer so too does the season of kids sports. Some may have already started! After last year saw the cancellation of many sports for kids in summer, many are eager to get back out and play with their friends. However, to make the most of this summer there are some things to consider. Whether your child is already on a team or you're looking for activities, here is what you need to keep in mind.
Finding Activities
Some teams and activities that existed a year ago might not currently be active. Because of this, many kids may be left looking for activities to participate in. While some local parks may feature sports for kids in summer, such as baseball, softball, or even swimming, not everyone may have these available. Fortunately, there are other options to help get your child out of the house and active with their peers.
If you're not sure where to start, consider speaking with your child's friend's parents to get an idea of what they are going to be doing this summer. They might know of activities and sports that you haven't heard about. You might also want to speak with someone from your local park district, school, or library to learn more about the activities going on in your area. These are the best resources to help you find local options for your child this summer.
Simiarly, many summer camps are reopening to kids and they can offer great activities and a welcome break from being cooped up in the house for the past year. Some summer camps may require a bit of traveling, especially if they are sleepaway camps; however, the selection of activities they can offer is often worth it. Many feature an array of activities for kids of all ages and it is a great way for them to learn new skills in the outdoors. At summer camp kids can expect to participate in not only a large number of physical activities but also games that challenge them to think creatively and work as a team. These skills can then go on to benefit them out of camp and during school.
Another option that works especially well for younger children who may not be old enough to play sports for kids in summer is daycare. Daycares can offer a lot of outdoor activities and a chance to meet other kids and learn greater socialization skills. This can also be a boon for parents with younger kids who may be heading back to the office this summer. Check out the local daycare options in your area or along your commute route to see which ones have the amenities your child would enjoy most. You can also ask other parents to see if they recommend any local daycares or if their children will be going to one so that your kid can be with a friend.
Uniforms and Commemorative Gear
If your child is going to be participating in sports for kids in summer, whether it's a local team or just an unofficial club it can be fun to get some gear. Custom t-shirt printing gives you a great opportunity to have shirts made up to commemorate the 2021 sports season or activity gathering. Shirts can be made with a variety of designs and in numerous colors and sizes. If your child is taking part in a team sport, you could even order a custom printed jersey or t-shirt with their name and sports team logo. This can be a fun way to remember the season and give your kids something they'll love to wear.
Similarly, clothing rubber stamps can be used to create customize t-shirts, hats, and even masks if your area still requires them. With numerous stamps to choose from and some fabric ink, you can make a fun day of customizing clothing with your kids. They will love the opportunity to get creative and show off what they made at their next team meeting.
Invest in Equipment
If your child needs any equipment such as bats, balls, shoes, or shorts for their sport, be sure to invest in that before the season begins. Shoes, in particular, can be important to prevent injury. For instance, if your child is participating in baseball or softball, cleats will be needed to ensure they can play the game without slipping and sliding too much. Sliding the wrong way can cause ankle injuries which may result in them having to sit out the rest of the season. Similarly, the right type of legwear is also important. While shorts can be good for summer camp activities, baseball players need long pants to ensure they don't get skinned up while sliding to a base. Make sure your child has all the necessary equipment before heading out to play, and if you need clothing, consider customizing like the tip above!
See Your Doctor
With sports for kids in summer can come injury, and while every parent wishes it was avoidable, sometimes accidents just happen. Thankfully, most sports injuries aren't major; however, some may need additional attention. Before starting this summer season, be sure to have your child's old injuries checked out to ensure that they're okay to play. If they do need additional attention for either new or old injuries, local sports therapy offices can help get them back out on the field. These offices specialize in physical therapy for sports injuries and they are the best suited for treating all types of sports-related problems.
If your child has experienced a knee-related injury, for instance, investing in knee supportive sleeves might help provide knee pain relief so that they can play without fear of a new injury. Older teens may even benefit from hot soaks which can help relieve stiffness and soreness in joints. Hot tubs are great for this, and used hot tubs can be a great investment for both you and them. Hot tubs, in particular, can help by increasing the blood flow to the skin and muscles which can boost the healing process and get your teen back on the field quicker. While not recommended for younger children, for active teens they can be highly beneficial.
You should also check with your doctor to see if your child requires a physical or any booster shots before starting out the season. Some sports for kids in summer require this before allowing a child to play, so make sure you're child is all up-to-date before the season starts. This is also a great time to talk to your doctors about any specific support gear that could help prevent injury. For instance, knee sleeves and elbow sleeves can help reduce soreness and stiffness and many sports players find them beneficial to wear on and off the field.
Repair Needed Essentials
For kids with glasses and hearing aids it's important to make sure they are in good shape before starting sports season. For children with glasses, it's advised to invest in a pair of sports glasses that are more durable and secure than typical glasses. This can ensure that they won't be knocked off or broken, leaving your child without a way to see while on the field and off. If you have an old pair of sports glasses, make sure that the prescription is still up-to-date and that they are in good shape.
For kids with hearing aids, it's important to make sure any hearing aid repairs are done before they hit the field. Being able to clearly hear their teammates can make a huge difference during play, and it can prevent them from feeling left out.
Essentials like this should always be considered before sending your kids out for sports or other summertime activities. Because they can be essential for helping them navigate, it is something that shouldn't be put on the backburner.
Encourage a Healthy Diet
Sports for kids in summer can be demanding and without the proper nutrition, kids can get fatigued quickly or feel ill. Make sure that your kids are eating at least three times a day and encourage healthy snacking in between if they're still hungry. By eating regular healthy meals kids can have enough energy to power through the day and sustain their growing bodies. If possible, try to set up an eating schedule and stick to it as closely as possible. Older kids may be able to help themselves to breakfast or lunch; however, it's important to steer them towards healthy options. While a couple of cookies might be good after dinner, you want to make sure they're not becoming a substitute for a healthy lunch.
You can also get kids involved with their healthy habits by taking them to a farmers market and allowing them to pick out their own snacks and treats. If you have space in your yard, you may also consider planting a few vegetables and teaching your kids about how to grow and tend the plants. This involvement is great for educating them and also getting them active. Many kids will enjoy being able to get outside and take care of their plants. They'll also have something to be proud of when they get to harvest the fruits of their labor!
Hydrate, Hydrate, Hydrate
Dehydration can be a serious problem for sports for kids in summer and even more so when kids are active and outside. Hydration should just be for when they're on the field either, it's important throughout the day. Try to stick to hydrating drinks and pure water as opposed to sodas and other caffeinated beverages, as they actually dehydrate you further. Dehydration can also make it harder for your body to produce adequate sweat which can contribute to overheating and heatstroke. Don't take chances this summer and teach your kids the importance of staying hydrated.
Set a Healthy Sleep Schedule
Growing kids and teens need sleep and at least eight hours of it. While summer might make it tempting to stay up chatting with friends, watching TV, or playing video games, make sure to set a bedtime and stick to it. While being tired is always a bad side effect of a lack of sleep, it can also lower your child's immune system making them more prone to catching colds and other illnesses. Being sick is a sure-fire way to put a damper on this sports for kids in summer season, so be sure to emphasize the importance of a good night's rest and set a reasonable bedtime for your kids.
Get Active Before the Season Starts
Many kids have been stuck inside the past year and this could have negatively impacted their level of fitness. Because of this, they might not be ready to jump right into a demanding sport. Before the season starts, get them active by taking them on regular outdoor outings. Even something as simple as walking — or running — with your dog can help get kids back in shape for the sports season. This is also important as it can help prevent overexerting the body. When someone is sedentary too long and then tries to partake in a strenuous sport, they can put themselves at greater risk of injury because their body isn't up to the task. Warming up properly before any exercise and before games is also important to help mitigate the risk of potential injury.
Enjoy the Season
Last summer left a lot to be desired but this summer is shaping up to be much more enjoyable. While there is some preparation to be done, and you should take care to make sure you have everything you need before summer begins, the most important thing is to focus on enjoying the season. After being stuck inside for so long, kids are looking to make up for lost time and parents should strive to ensure that they can have as much fun as possible. So as summer gets closer, keep these tips in mind so that your kids can have a summer to remember!