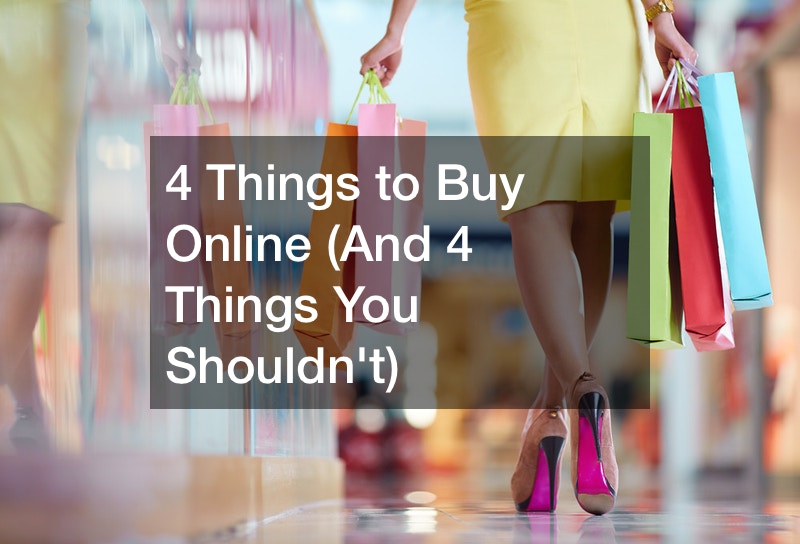 Shopping online is one of the best ways to find almost everything that you need and have it easily delivered right to your home. However, some things are better bought in person, and while you may be able to buy them online, you probably shouldn't.
If you love shopping online, here are four things that you definitely should buy online and four that you should definitely stay away from.
Four Things You Should Buy Online
When it comes to learning how to shop international online, there are a few things that you definitely should buy or continue buying over the internet. These are things that are safe to buy, sight unseen, and usually won't leave you with any buyer's remorse.
1. Flowers and Trees
When it comes to flower bouquets for special occasions or flowers and trees for your yard, you can usually safely buy these online and have them delivered to your home for installation.
In the case of ordering a floral bouquet, many can be purchased online through a flower shop and delivered to a home or venue of your choice, without you needing to actually go to the store in person. This can be great if you need to order a lot of arrangements for an event or if you are sending them as a gift to someone outside your local area. Many shops have a catalog online of various bouquets and if you need customizations, you can usually contact them online or even call to modify your order.
Similarly, garden centers and arborists often have online websites where you can buy flowers and trees for your home and have them delivered and installed. Sites like this allow you to browse their selection of plants and trees, as well as read about what care they need, so you can make the best choice for your landscaping. Once purchased, you can have the plants delivered and installed by professional gardeners from the center, saving you from having to transport and plant them yourself.
Additionally, like buying floral arrangements from a flower shop, buying trees and plants can also be done anywhere in the world, meaning that you can purchase from a local garden center even if you are not currently in the area. This can be a great boon for landlords who manage buildings in different areas, as you can purchase plants and have them installed without having to go out yourself and do it.
2. Car and Bicycle Parts
If you need bicycle repairs and know how to do it yourself, you can purchase parts online and have them shipped to you without having to leave the comfort of your home. Learning how to shop international online can also give you the benefit of being able to shop various online stores across the globe to find the best deals on the parts you need. This can save you from having to pay more than you would like, and you'll have access to many more parts than you might be able to find at your local store.
Similarly, car parts can also be found online and there are numerous reputable sites that sell almost any car part, truck part, and motorcycle part that you could need, and if you know what you're looking for, they can be a deal not to pass up. From steering wheels to wheel repairs, if you can think of it, it's most likely available for purchase.
However, when purchasing car parts online, it's important to know the best sites to go to, as well as if you want original equipment manufacturer (OEM) or aftermarket parts. While OEM parts will come straight from the manufacturer of your vehicle, aftermarket parts are from other dealers that have been created to mimic the original parts and functions at a lower price. Although some care and research should be done before buying aftermarket parts, in many instances, they can help you save money without sacrificing quality.
3. Pipe Fittings
Another benefit of learning how to shop international online is buying pipe fittings and plumbing supplies. These are usually safe to buy online so long as you know the parts that you need. This can make it easy to stock up on plumbing fittings, sometimes at a discounted price, without having to leave your home or office.
While this can be helpful for homeowners who know how to repair their own plumbing, it can be especially helpful for those who own and operate their own plumbing companies, and it can allow you to buy en masse all of the plumbing parts and pipe fittings that you will need for your jobs. Buying in bulk like this can often also give you additional discounts that many brick and motor stores can't offer.
4. Electronics
Another thing to keep in mind when learning how to shop international online is electronics. Electronics can be one of the best things to buy online, and it can often allow you to find better deals than the local stores near you. Buying electronics online can also give you the opportunity to shop around and compare more deals than you could in your local area. By being able to access numerous online marketplaces, some of which may be thousands of miles away from you, you can cast a wider net to find the exact thing that you need.
For instance, if you are looking for a new computer, trying to find one at your local stores can present you with a very limited supply. This also can prevent you from being able to compare deals and statistics unless you physically drive to various stores, which can take a lot of time. However, by being able to easily check multiple online stores from your current computer or smartphone, you can find better deals and a greater selection to choose from. This can help ensure that you get exactly what you want for the best price possible.
When it comes to learning how to shop international online, electronics are one of the best things to stick to purchasing.
Four Things You Shouldn't Buy Online
Now that you know what you absolutely should buy online, it's time to look at the things you shouldn't buy online. While there can be a couple of exceptions to these, in general, they are all things that are better bought in person.
1. Homes and Trailers
When it comes to learning how to shop international online, buying homes and trailers isn't something you should usually do. This is because it's easy for fake listings to be posted with misleading pictures that can result in your spending a lot of money on what is essentially a scam.
For instance, if you want to buy a house, you can absolutely start your search online to help find homes in your target area. However, when doing this, you should always try to set up either an in-person tour or a virtual tour with a professional real estate agent. Often, sites like Zillow will have listings of homes that have been put up by the real estate agents selling them. This means you can trust that you are getting a fair deal. However, even with the backing of a professional agent, you should still insist on a tour just to make sure that you can see the home either in person or virtually, so that no surprises spring up after you move in.
Similarly, if you're planning on buying a trailer for camping, you should also insist on an in-person viewing or a virtual tour. This is because trailers aren't usually sold by real estate agents unless they are trailer homes, and sellers can always post misleading pictures to help sell their products. For instance, old pictures can be used to try and sell a trailer that now has a lot of damage that you wouldn't know about until you buy it.
When possible, it's best to stay away from buying homes and trailers online. If you absolutely can't do an in-person tour, always try to get a virtual one so that any purchases you make are safe and confirmed.
2. Teeth Straightening
Today there are many aligners that are similar to Invisalign but they can be ordered online and sent to your home. While this may seem like a boon for those who want straighter teeth without going to their dentist, there are actually a lot of drawbacks to these products and when learning how to shop international online, it's best to avoid them.
For example, not all cases of misalignment are the same, and aligners may not work for teeth that are severely misaligned. The molds that you make for your teeth at home, may also not be as accurate as those you can get done at your dentist's office. This can compromise the effectiveness of these online aligners and make treatment ineffective or it may even make your teeth worse.
When it comes to dental care, it's best to leave it to the professional instead of trying to take matters into your own hands with online kits.
3. Guns
When learning how to shop international online, it's also good to stay away from buying firearms. Although gun sales online are legal in the United States, the process can be complicated and, overall, it is much safer to buy your firearms from a certified dealer in person. This can also be a good idea for first-time buyers as it can give you access to expert advice and safety tips that can be difficult to learn online.
Veteran buyers can also benefit from buying in-person as it can allow you to build a relationship with your local gun shop owner, making them more likely to give you deals or let you know when special orders come in that you may be interested in. Purchasing guns is different than buying many other items, and it's important to know who you're getting them from so that you can stay legal and safe.
4. Windows and Doors
Lastly, when learning how to shop international online, it's a good idea to stay away from windows and doors, even if you think you can install them yourself. Glass replacement can be tricky to do, and even trickier to have shipped to you without having it broken in transport. Because of this, it's best to have your windows put in and delivered by a certified window installation company.
Doors, likewise, can be tricky to have shipped, and they can be damaged during transport. Although doors can be easier to install than windows, if you need to get a new one, it's best to buy it in person and bring it to your home yourself. Overall, this can save you time and a lot of stress, especially if you order something that gets damaged. Many home improvement stores also have a large variety of these items, with others that they can order for you. This means that you won't have to worry about missing out on any varieties that could otherwise be available in online marketplaces.
Online Shopping Made Easy
When it comes to learning how to shop international online, it's worth keeping in mind the things that you should and shouldn't purchase online. Although things like flowers, electronics, car parts, and plumbing parts can be great to order from the comfort of your home or office, larger things like homes, trailers, dental care, and guns, should always be bought in person when possible. Despite being easier than in-person shopping, there are still some things that should stay in brick and motor stores.
With this in mind, you can start to shop smarter and not worry about ending up battling any potentially expensive buyer's remorse.